Elegant, Luxurious Living Spaces
Our open dining rooms and sunrooms feature windows with beautiful views of the courtyard and outdoor living spaces. Inside, you'll find gathering spaces and sitting areas that are richly appointed with comfortable furnishings and loads of activities. Enjoy coffee and a treat with a friend in our updated coffee shops.
Our elegant suites are spacious and open, with a variety of floorplans from which to choose. Each suite provides windows with a beautiful view and natural light to make you feel at home. Our suites feature; a kitchenette, walk-in shower, plenty of storage, spacious closets, updated furnishings, telephone and cable TV access and more.
Full coffee bar with all of the fixings to create your perfect cup of coffee! Treats are served in our coffee shops every afternoon, accompanied by games and great conversations with friends and loved ones. All are welcome to join our residents in the coffee shops and enjoy a warm cup for yourself! These shops create a perfect, relaxing space with views of the front porch and throughout the facility.
StoneyBrook Outdoor Living Spaces
The social psychologist, Erich Fromm, first coined the term 'biophilia' (love of life) in 1964 to describe the instinctual and innate human attraction to nature. In the 1980's Edward O. Wilson (biologist), propagated the term when he pioneered a new school of thought focused on the need to bring people back in contact with nature.
At StoneyBrook Suites, we agree, and believe our residents need to connect with God's Creation! Our residents enjoy our outdoor walking paths, courtyards and patios, where they can enjoy beautiful plants and flowers, and fresh air. Our spacious Dining Room overlooks our central courtyards, and there are level paved pathways with park benches and bird feeders, as well as front porches with comfortable chairs. Watch the birds play in the bird bath while relaxing on one of our patios, or from inside the adjoining sunrooms with a great view!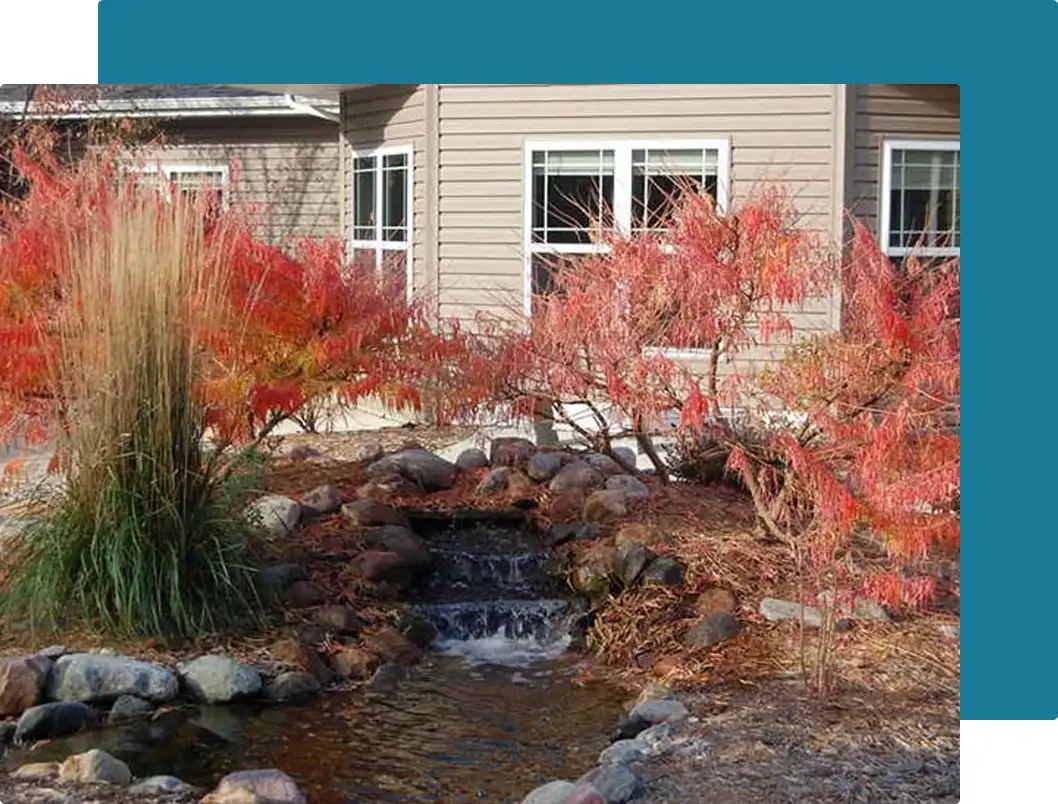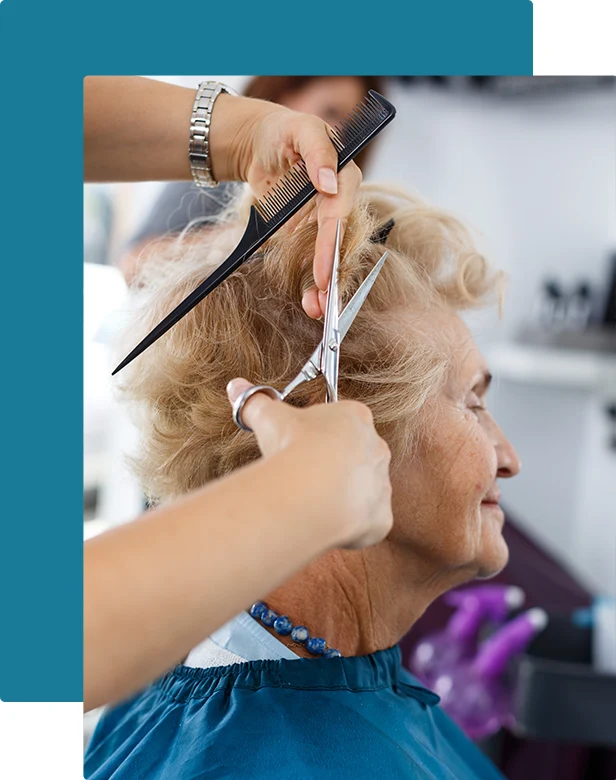 One of the perks of life at StoneyBrook Suites is more time to spend on you! If you're used to regular salon visits, StoneyBrook's Beauty and Barber services can help you maintain your routine without ever dealing with the weather.
If you're not a regular salon-goer, your first visit or two may convince you to adopt the habit. Each StoneyBrook Suites Salon is staffed by professionals who enjoy working with mature clients, and serve as a social hub where you can meet your neighbors.
How do I book an appointment?
It's always a good idea to book your appointment well ahead of time if you have a special occasion coming up, such as family photos, a birthday, or a big night out. Salon hours are usually morning through early afternoon, contact the staff to reserve your appointment.
What salon services are available?
The Beauty Salons offer standard hair-care services including shampoo and style, cuts, and color, plus beard trimming and shaving for men. Permanents, and deep conditioning may be on the menu, too.
How much do services cost?
Services are highly affordable, but vary by facility and by professional stylist. Talk to the staff or the stylists at the salon to learn more about the services offered and what costs are incurred. You may find that a regular trip to the salon or spa is one of retirement's best benefits.
Whether you want to enjoy Bogart & Bacall, local Collegiate sports, or "I Love Lucy" on Netflix, StoneyBrook Cinemas are custom built theaters where residents can spend time together watching all of their favorite entertainment. Our theaters feature a state of the art entertainment center that is perfect for entertaining our residents and their guests, complete with digital surround sound, reclining loungers, and fresh popcorn!
The Cinema also serves as Game Central for fun activities, such as Wii Bowling Contests, Trivial Pursuit, or a rousing game of Wheel of Fortune. Our Activities Directors feature fun activities and programming, with movie nights scheduled throughout each month. Local High School and Collegiate sports are popular as well, with opportunities to watch Saturday afternoon football in the Fall, or cheer your favorite team during March Madness.
On Sunday and selected days, the StoneyBrook Cinema becomes home to Worship Services by way of both Live and Recorded Streaming Services from local churches of several denominations. A great way to be a part of a local congregation, without the worries of having to venture out through the weather!
Schedule a Tour or Contact Us
Our passion for assisted living shines through everyday at StoneyBrook Suites. It is our goal to be more than just a retirement center. We want to ensure your loved ones feel at home with a listening ear, a caring embrace, and an overall sense of community.